Page from 1565 edition of Orlando Furioso by Francesco Franceschi.


(Some useful details about the Poem
have been added at the bottom of the post)

XIII
The affrighted damsel turns her palfrey round,
And shakes the floating bridle in the wind;
Nor in her panic seeks to choose her ground,
Nor open grove prefers to thicket blind.
But reckless, pale and trembling, and astound,
Leaves to her horse the devious way to find.
He up and down the forest bore the dame,
Till to a sylvan river's bank he came.

XIV
Here stood the fierce Ferrau in grisly plight,
Begrimed with dust, and bathed with sweat and blood
Who lately had withdrawn him from the fight,
To rest and drink at that refreshing flood:
But there had tarried in his own despite,
Since bending from the bank, in hasty mood,
He dropped his helmet in the crystal tide,
And vainly to regain the treasure tried.

XV
Thither at speed she drives, and evermore
In her wild panic utters fearful cries;
And at the voice, upleaping on the shore,
The Saracen her lovely visage spies.
And, pale as is her cheek, and troubled sore,
Arriving, quickly to the warrior's eyes
(Though many days no news of her had shown)
The beautiful Angelica is known.

XVI
Courteous, and haply gifted with a breast
As warm as either of the cousins two;
As bold, as if his brows in steel were dressed,
The succour which she sought he lent, and drew
His faulchion, and against Rinaldo pressed,
Who saw with little fear the champion true.
Not only each to each was known by sight,
But each had proved in arms his foeman's might.

XVII
Thus, as they are, on foot the warriors vie
In cruel strife, and blade to blade oppose;
No marvel plate or brittle mail should fly,
When anvils had not stood the deafening blows.
It now behoves the palfrey swift to ply
His feet; for while the knights in combat close,
Him vexed to utmost speed, with goading spurs,
By waste or wood the frighted damsel stirs.

XVIII
After the two had struggled long to throw
Each other in the strife, and vainly still;
Since neither valiant warrior was below
His opposite in force and knightly skill:
The first to parley with his Spanish foe
Was the good master of Albano's hill
(As one within whose raging breast was pent
A reckless fire which struggled for a vent).

XIX
"Thou think'st," he said, "to injure me alone,
But know thou wilt thyself as much molest:
For if we fight because yon rising sun
This raging heat has kindled in thy breast.
What were thy gain, and what the guerdon won,
Though I should yield my life, or stoop my crest;
If she shall never be thy glorious meed,
Who flies, while vainly we in battle bleed?

XX
"Then how much better, since our stake's the same,
Thou, loving like myself, should'st mount and stay
To wait this battle's end, the lovely dame,
Before she fly yet further on her way.
The lady taken, we repeat our claim
With naked faulchion to that peerless prey:
Else by long toil I see not what we gain
But simple loss and unrequited pain."

XXI
The peer's proposal pleased the paynim well.
And so their hot contention was foregone;
And such fair truce replaced that discord fell,
So mutual wrongs forgot and mischief done;
That for departure seated in his sell,
On foot the Spaniard left not Aymon's son;
But him to mount his courser's crupper prayed;
And both united chased the royal maid.

XXII
Oh! goodly truth in cavaliers of old!
Rivals they were, to different faith were bred.
Not yet the weary warriors' wounds were cold --
Still smarting from those strokes so fell and dread.
Yet they together ride by waste and wold,
And, unsuspecting, devious dingle thread.
Them, while four spurs infest his foaming sides,
Their courser brings to where the way divides.

XXIII
And now the warlike pair at fault, for they
Knew not by which she might her palfrey goad,
(Since both, without distinction, there survey
The recent print of hoofs on either road),
Commit the chase to fortune. By this way
The paynim pricked, by that Rinaldo strode.
But fierce Ferrau, bewildered in the wood,
Found himself once again where late he stood.

XXIV
Beside the water, where he stoop'd to drink,
And dropt the knightly helmet, -- to his cost,
Sunk in the stream; and since he could not think
Her to retrieve, who late his hopes had crossed.
He, where the treasure fell, descends the brink
Of that swift stream, and seeks the morion lost.
But the casque lies so bedded in the sands,
'Twill ask no light endeavour at his hands.

XXV
A bough he severs from a neighbouring tree,
And shreds and shapes the branch into a pole:
With this he sounds the stream, and anxiously
Fathoms, and rakes, and ransacks shelf and hole.
While angered sore at heart, and restless, he
So lingered, where the troubled waters roll,
Breast-high, from the mid river rose upright,
The apparition of an angry knight.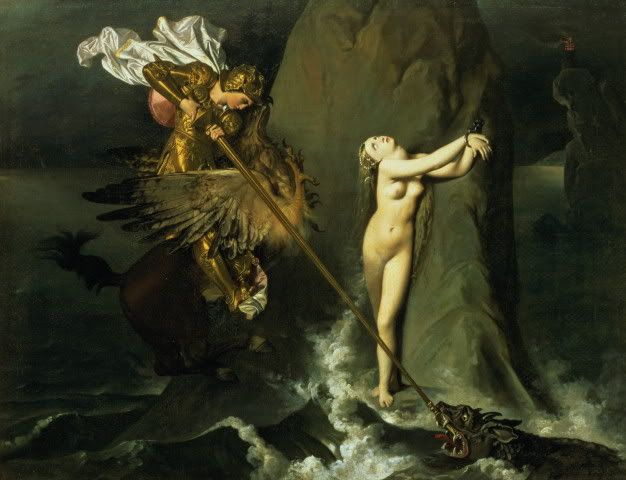 Ruggiero Rescuing Angelica by Jean Auguste Dominique Ingres

XXVI
Armed at all points he was, except his head,
And in his better hand a helmet bore:
The very casque, which in the river's bed
Ferrau sought vainly, toiling long and sore.
Upon the Spanish knight he frowned, and said:
"Thou traitor to thy word, thou perjured Moor,
Why grieve the goodly helmet to resign,
Which, due to me long since, is justly mine?

XXVII
"Remember, pagan, when thine arm laid low
The brother of Angelica. That knight
Am I; -- thy word was plighted then to throw
After my other arms his helmet bright.
If Fortune now compel thee to forego
The prize, and do my will in thy despite,
Grieve not at this, but rather grieve that thou
Art found a perjured traitor to thy vow.

XXVIII
"But if thou seek'st a helmet, be thy task
To win and wear it more to thy renown.
A noble prize were good Orlando's casque;
Rinaldo's such, or yet a fairer crown;
Almontes', or Mambrino's iron masque:
Make one of these, by force of arms, thine own.
And this good helm will fitly be bestowed
Where (such thy promise) it has long been owed."

XXIX
Bristled the paynim's every hair at view
Of that grim shade, uprising from the tide,
And vanished was his fresh and healthful hue,
While on his lips the half-formed accents died.
Next hearing Argalia, whom he slew,
(So was the warrior hight) that stream beside,
Thus his unknightly breach of promise blame,
He burned all over, flushed with rage and shame.

XXX
Nor having time his falsehood to excuse,
And knowing well how true the phantom's lore,
Stood speechless; such remorse the words infuse.
Then by Lanfusa's life the warrior swore,
Never in fight, or foray would he use
Helmet but that which good Orlando bore
From Aspramont, where bold Almontes paid
His life a forfeit to the Christian blade.

XXXI
And this new vow discharged more faithfully
Than the vain promise which was whilom plight;
And from the stream departing heavily,
Was many days sore vexed and grieved in sprite;
And still intent to seek Orlando, he
Roved wheresoe'er he hoped to find the knight.
A different lot befel Rinaldo; who
Had chanced another pathway to pursue.

XXXII
For far the warrior fared not, ere he spied,
Bounding across the path, his gallant steed,
And, "Stay, Bayardo mine," Rinaldo cried,
"Too cruel care the loss of thee does breed."
The horse for this returned not to his side,
Deaf to his prayer, but flew with better speed.
Furious, in chase of him, Rinaldo hies.
But follow we Angelica, who flies.

XXXIII
Through dreary woods and dark the damsel fled,
By rude unharboured heath and savage height,
While every leaf or spray that rustled, bred
(Of oak, or elm, or beech), such new affright,
She here and there her foaming palfrey sped
By strange and crooked paths with furious flight;
And at each shadow, seen in valley blind,
Or mountain, feared Rinaldo was behind.

XXXIV
As a young roe or fawn of fallow deer,
Who, mid the shelter of its native glade,
Has seen a hungry pard or tiger tear
The bosom of its bleeding dam, dismayed,
Bounds, through the forest green in ceaseless fear
Of the destroying beast, from shade to shade,
And at each sapling touched, amid its pangs,
Believes itself between the monster's fangs,

XXXV
One day and night, and half the following day,
The damsel wanders wide, nor whither knows;
Then enters a deep wood, whose branches play,
Moved lightly by the freshening breeze which blows.
Through this two clear and murmuring rivers stray:
Upon their banks a fresher herbage grows;
While the twin streams their passage slowly clear,
Make music with the stones, and please the ear.

XXXVI
Weening removed the way by which she wends,
A thousand miles from loathed Rinaldo's beat,
To rest herself a while the maid intends,
Wearied with that long flight and summer's heat.
She from her saddle 'mid spring flowers descends
And takes the bridle from her courser fleet.
And loose along the river lets him pass,
Roving the banks in search of lusty grass.

XXXVII
Behold! at hand a thicket she surveys
Gay with the flowering thorn and vermeil rose:
The tuft reflected in the stream which strays
Beside it, overshadowing oaks enclose.
Hollow within, and safe from vulgar gaze,
It seemed a place constructed for repose;
With bows so interwoven, that the light
Pierced not the tangled screen, far less the sight.

XXXVIII
Within soft moss and herbage form a bed;
And to delay and rest the traveller woo.
'Twas there her limbs the weary damsel spread,
Her eye-balls bathed in slumber's balmy dew.
But little time had eased her drooping head,
Ere, as she weened, a courser's tramp she knew.
Softly she rises, and the river near,
Armed cap-a-pie, beholds a cavalier.

XXXIX
If friend or foe, she nothing comprehends,
(So hope and fear her doubting bosom tear)
And that adventure's issue mute attends,
Nor even with a sigh disturbs the air.
The cavalier upon the bank descends;
And sits so motionless, so lost in care,
(His visage propt upon his arm) to sight
Changed into senseless stone appeared the knight.


from the other work in that it does not preserve
Entering the Cinquecento, the
16th century
, it contains instead only an appearance
of those themes,
at an only superficial level.
A work of its time,
the Orlando shows more clearly the so-called
"culture of the contradiction",
which was also in
Erasmus
and in
François Rabelais
.

Hegel
later considered that the work's many allegories
and metaphors demonstrate
the fallacy of human senses
and judgement, rather than simply to put aside
the myth of
chivalry
.
Orlando Furioso begins with an account of the defeat
of
Duke Namo
in
Charlemagne
's war.
Angelica escapes to meet Rinaldo
searching for his horse,
Bayardo
.
Angelica evades Rinaldo, and meets Ferrau.
Rinaldo and Ferrau fight, then make a truce
and share a horse to seek Angelica.
Ferrau seeks his helmet
and encounters the ghost of Angelica.
Angelica flees, and falls asleep in a grove
until awakened by a lamenting knight,

Sacripante
. Angelica manipulates Sacripante
and Sacripante plans to deflower her.
Angelica and the embarrassed Sacripante
share her horse
and encounter Bayardo.
Page from 1565 edition of Orlando Furioso by

Francesco Franceschi
.
In the Baroque era, the poem
Francesco Franceschi
From
Wikipedia,
the free encyclopedia
Francesco Franceschi (d. c.1599) was a printer
in the Italian Renaissance.
His roots were in Siena,
though the bulk of his work
was done in Venice.
Franceschi was known for the high quality
of his engravings,
which were done using metal plates
rather than wooden,
a common inexpensive alternative in the period.
Evelyn Tribble describes in detail
his 1565 edition of Ludovico Ariosto's
Orlando Furioso, which was influential
for some English publishers,
and which is heavily and ornately illustrated,
including an engraving before every canto
and an engraved frame surrounding the argument.
Franceschi was also known for printing music.
According to the New Grove,
he printed the works of Gioseffo Zarlino
and several volumes of writing on music.
Two probable relatives,
Giovanni Antonio
de' Franceschi
(who worked in both Palermo and Venice)
and Giacomo Franceschi of Venice,
printed music as well.